General Scale

The apparent scale for many wooden track buildings and train cars is 1:87 based on door size, floor spacing, and car height. Doors are a common and standard feature suitable for use to balance textures and images from various sources. These are generally just under 7 feet in height (~83"). Door widths can vary significantly making this characteristic much less useful for scaling.

Following are some metrics based on observations to validate these scale assumptions.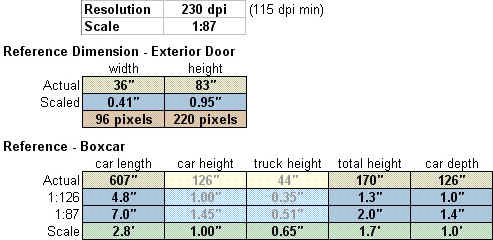 Railcar scale

Railcar scale is harder to quantify. Wooden train car bodies are roughly equivalent to 1:126 based on width and height. Train car lengths based on 1:126 are clearly too short - about 60% of what would be expected for a normal car length. The height is closer to HO Gauge if the wheel/trucks are included.

Assuming a 1:87 scale, the cars are about 40% of standard rail car length, proper height (albeit with trucks too tall and body too short), and approximately 70% of standard width. Railcar height is arguably the most apparent dimension during play, so 1:87 would be a reasonable scale to base railway structures and features on.

It should be noted that the ratio of height to width to length for cars commercially available from various manufacturers vary. Thomas™ cars are narrower, Orbrium and Brio® cars are shorter, and Whittle™ cars have a smaller wheel size. These differences are apparent in the comparative views of standard length cars shown and can impact which track pieces will work best on your layout. Shorter cars navigate through short switches and curves better, while smaller wheels may cause cars to drag on tight radius arch bridges.
Track scale

The scale of the track is completely unrealistic of course. Not just extraordinarily thick, rail spacing is also 50% greater than it should be for a track of this gauge. Wider rails, though, improve train stability when pushed by small hands...

Application


Following is a series of steps starting with photographs and textures, a layered graphic ready to print on photo paper, the images cut and placed next to the wooden building model prior to gluing, and the result after a first coat of matte finish.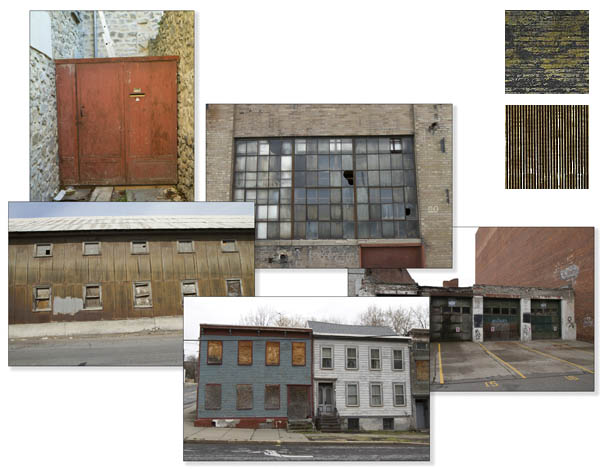 Photos of various doors, windows and walls - typically taken on an overcast day...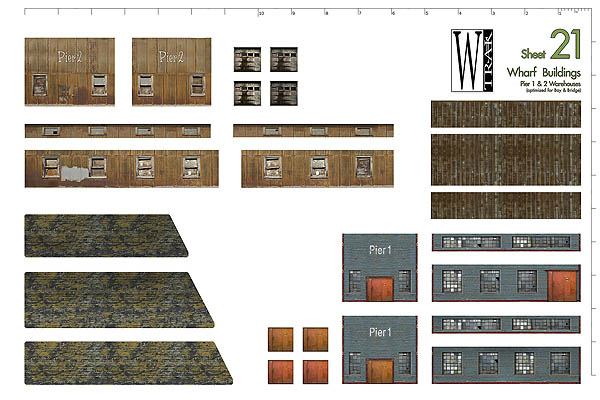 Images overlaid using Photoshop (or graphic editor of choice) and scaled for printing as an oversize photograph.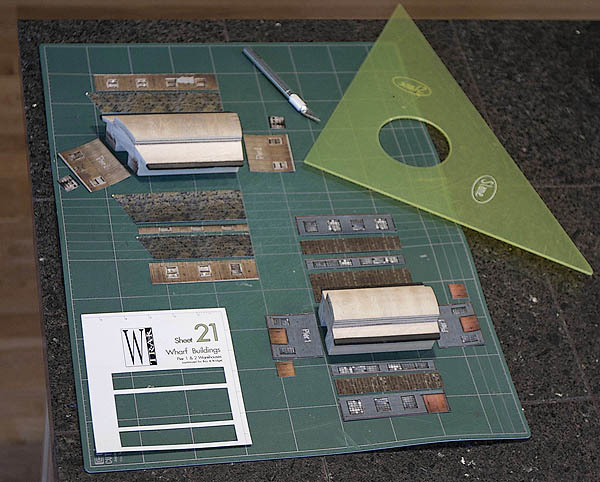 Photographic print cut using a sharp knife or paper trimmer.



Prints glued to wooden form (block or composite shape).