A freestanding table requires a support at each end of the module segments. Since modules generally share one support, the support on the left in most side views is shown for reference only. Since floors are often uneven, a small support ledge may be required with ground-level layouts to ensure they sit flat. A 3" connector would be needed for a 'U' ledge and a 4" connector for 'T' ledge floor supports.
Storage & Other Tips


Many of the modules are flat and stack easily. Others have features that extend above or below the playing surface. Two short plywood panels with holes could be used to bolt module segments together as an integral shelving unit. Add a top and bottom with a few ledges on the sides and you have a simple storage unit where modules can just slide into place instead - like trays in a bread or bakery cart...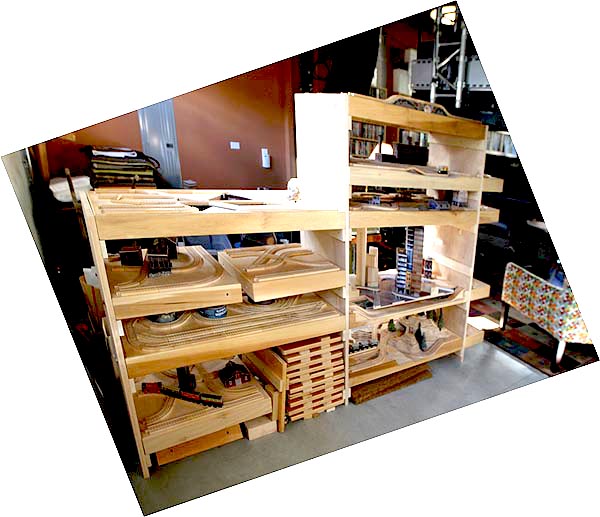 Ensure consistent track joints in your layout by making a simple bolt-on guide. Start with a leftover piece of plywood from your 1" thick support legs, glue and screw on four 4" joiners, and temporarily bolt this to the module end when affixing track.

Use fender washers on each side of each joint to protect the module ends. Forged wing nuts make assembly especially easy and wrench-free. But have a wrench handy since humidity changes can swell joints and make disassembly vexing.