Following are a few project examples that inherit from the wTrak modular railway standard. Each is uniquely adapted to suit specific needs. Detailing and landscaping vary. Depending on your goals - and the skills and resources in hand - you may need to reach out to others for assistance along the way to create your own modular wooden railway.

Seattle ReCreative

85th & Greenwood, Seattle, Washington



Constructed primarily from repurposed wood. The track was CNC'ed from century-old Amercian Chestnut, the joiners connecting the modules were cut from a salvaged Cherry tree and the table tops were planed and splined using Southern Yellow Pine reclaimed from a kitchen floor following water damage.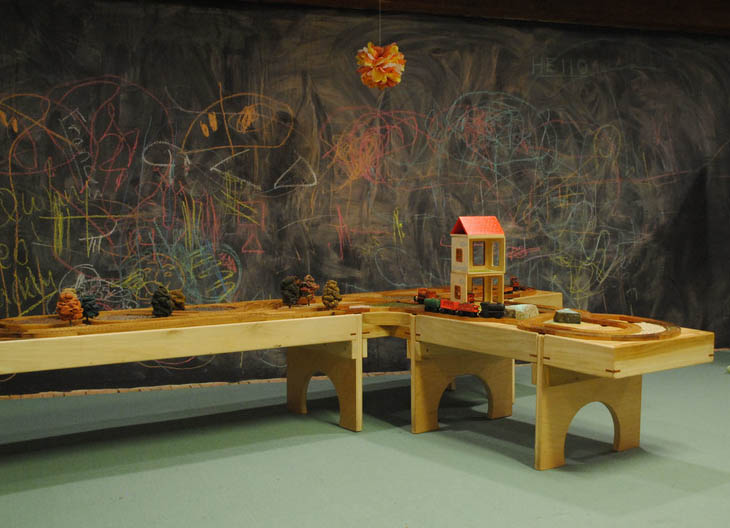 Western Maine Play Museum [Fixed Layout]

561 Main St, Wilton, Maine



The organizers of the Children's Play Museum in Wilton (ME) reached out as they were imagining their facility and planning their 'Train Room'. Working with a local furniture maker (Maine Made Furniture), they commissioned a set of railway modules to be part of their permanent exhibit at the Museum leveraging track from Choo Choo Track & Toy Company in St. Louis (MO) for much of the layout. Forty-four pieces of custom track pieces were CNC machined on Anderson Island (WA) using beech custom milled at Edensaw Woods in Port Townsend (WA) and donated to streamline timely completion of the project.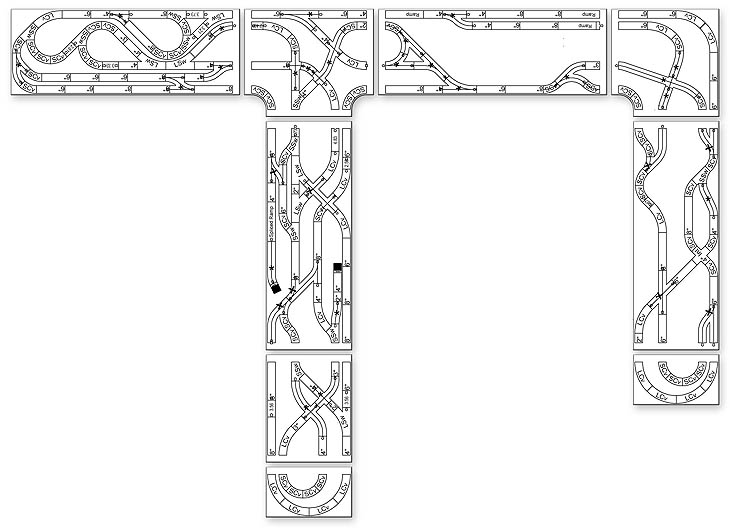 Western Maine Play Museum [Portable Layout]

561 Main St, Wilton, Maine



A handful of modules constructed to support an East Coast train show in Truro (NS) and a Trains! event in Quebec City (QC) were donated and now reside with this Children's Museum - complementing the modules in their fixed layout – allowing for occasional reconfiguration of their exhibit and the opportunity to take part of their modular wooden railway to regional events to promote their Train Room and Children's Museum.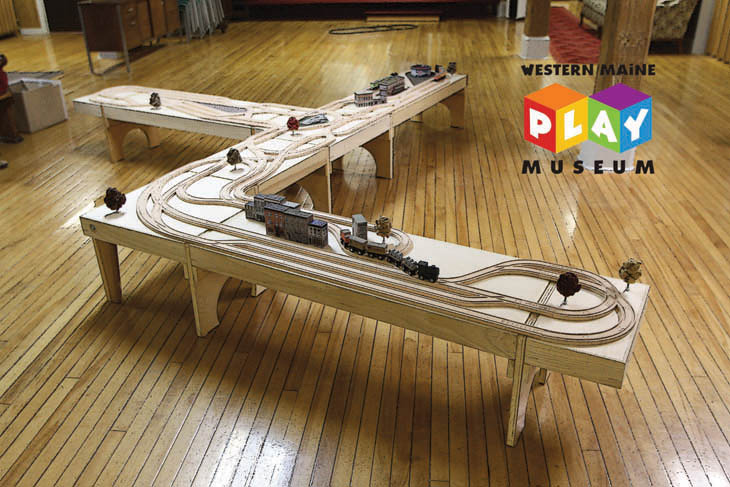 River City Modelers

1130 East Sprague Ave, Spokane, Washington



Getting to and from Spokane from Seattle can be a seasonal challenge - mountain snow can close the pass, require chains or even a detour through Portland. Deer (yes, we managed to scoop one up on the hood of our Prius in Snoqualmie Pass - surprising both the deer and us) and a six-plus hour drive each way make the journey memorable too.

With some weather near-misses in fulfilling our commitment to be there and a scheduling disconnect in October of 2019, a modular wooden railway layout was designed and provided to River City Modelers for their use at their Spring and Fall shows - and other events they support throughout the year regionally. The modules include a mirrored 'Crossaround' end piece and another short segment that is specific to their set. A few buildings and elements based on photographs taken in and around Spokane were incorporated into the layout also. The result is a modular railway that is distinctly theirs and uniquely local.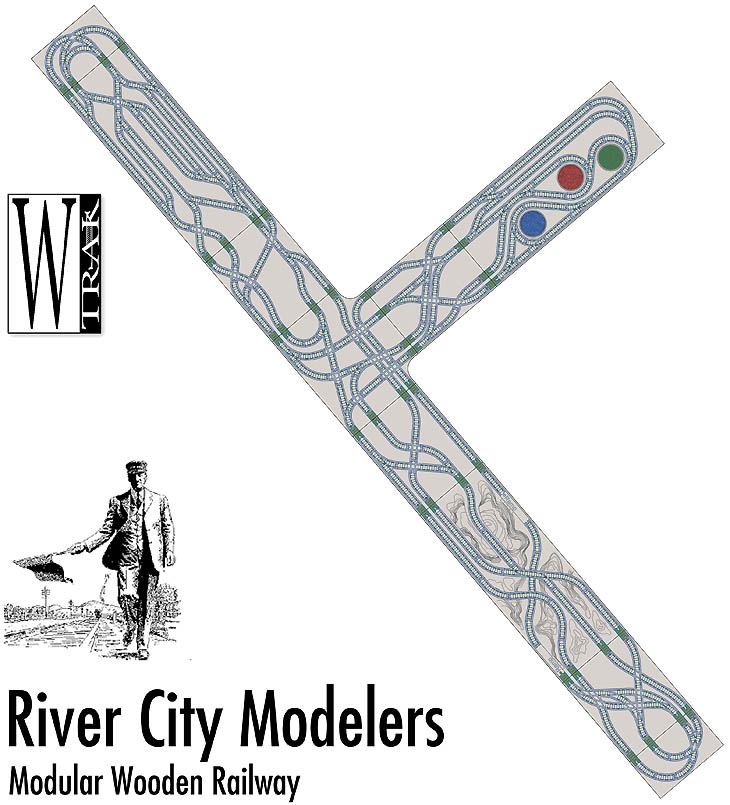 The Engine Shed

Reading, UK



On February 29th, 2020 - just weeks before the world shut down - I had the privilege of working with parents and children on the spectrum at a monthly train gathering. We made and decorated custom train cars and set up a reversible tile railway. 2,097,152 different layouts in a cubic foot box...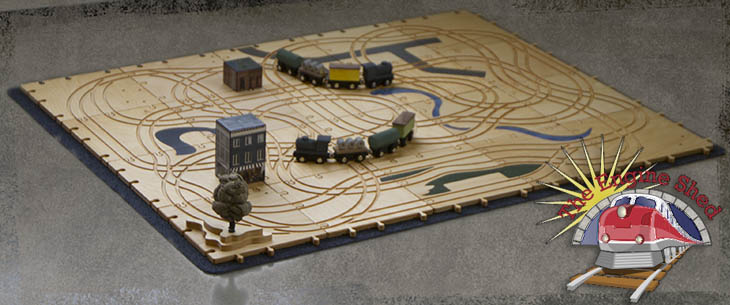 Wilmington Railroad Museum

5 Nutt St, Wilmington, North Carolina



The Wilmington Railroad Museum's community engagement, child-friendly exhibits and tie-in with model railroad groups checked a lot of boxes. Having family in town was an added plus. More importantly, the museum saw opportunity in leveraging a hands-on railway that connects with a broad age range that might also serve as a bridge between toy and hobby. Their custom layout was completed in seven weeks and traveled as LTL Freight to North Carolina for a September 11th debut.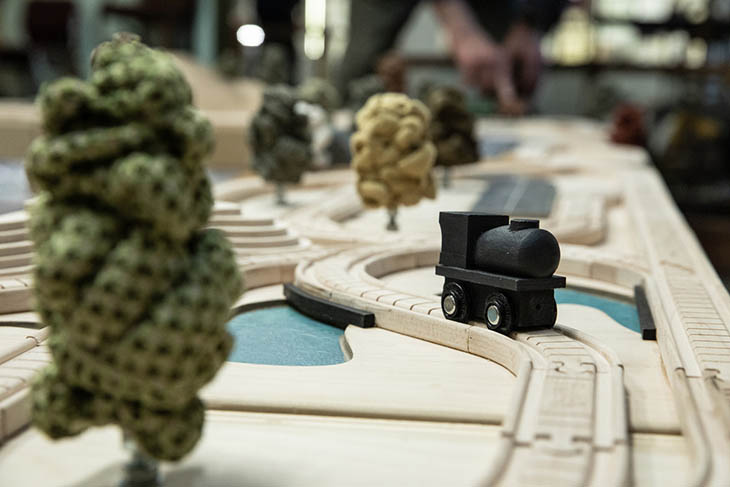 Santa Fe Children's Museum

1050 Old Pecos Trail, Santa Fe, New Mexico



A small box of custom track was donated as a resource to expand wooden railway options for their 'People on the Go' exhibit.

Las Cruces Railroad Museum

351 N Mesilla St, Las Cruces, New Mexico



An assortment of custom track was donated as a resource to facilitate collaborative play and educational programs.

Edwardsville Children's Museum

722 Holyoake Road, Edwardsville, Illinois



A modular wooden railway for the National Train Show (August 2022 in St. Louis) was completed and shipped to the Edwardsville Children's Museum for a late-March debut. After the layout was unboxed and setup, three train-building workshops were offered - including a sensory-friendly session one afternoon.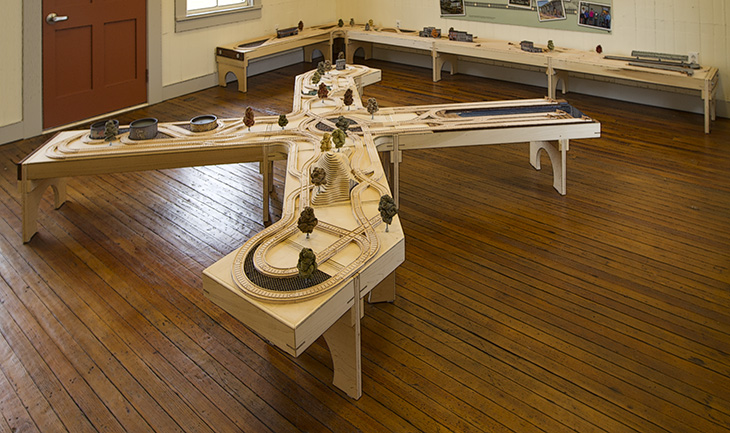 Mosaic Children's Museum

120 Main St, Ste D, Woodland, CA 95695



Following a box of custom track received as a resource for traveling exhibits, a modular wooden railway was delivered January 11th to support MOSAIC's Spring 2023 Opening. The layout has 55' of track, 22 turnouts, 7 crossings and seven custom trains to support collaborative play.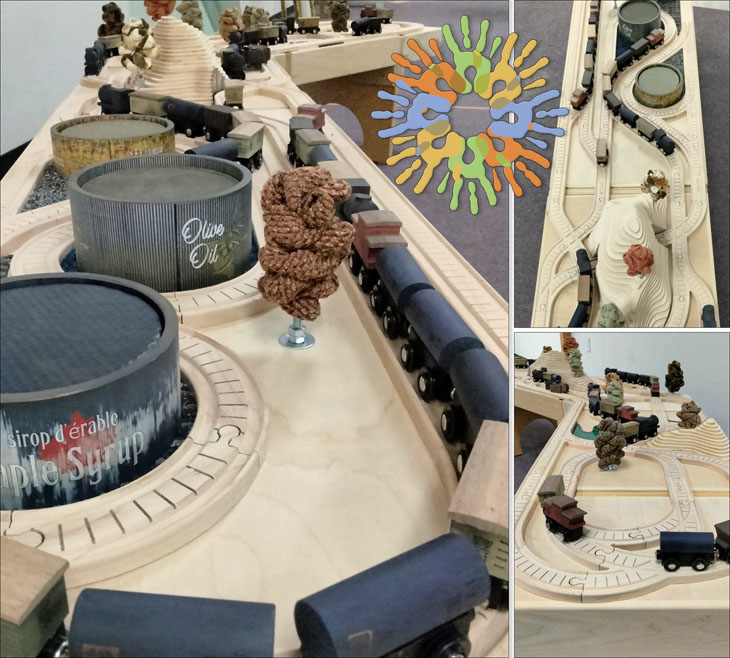 The Engine Shed

Reading, UK



An oversize wooden floor train travels to London on April 12th to support The Engine Shed's monthly railroad events. The cars were constructed using 4" trolley wheels and apple ply plywood. Each car is just over 4kg and couple using small buckles. Cars are painted with milk paint, weathered with charcoal, stamped and sealed with a child-safe flat varnish.