2023


National Train Show: Grapevine, TX


Edwardsville Children's Museum's Modular Wooden Railway

Explorium!: Denton, TX


Edwardsville Children's Museum's Modular Wooden Railway

Family Play Day at Waterfront Park: Vancouver, WA


Columbia Play Project's Popup Event

Spring into Trains Show: Raleigh, NC


Wilmington Railroad Museum's Modular Wooden Railway

Maine Fiddlehead Festival: Farmington, ME


Western Maine Play Museum's Modular Wooden Railway

Grand Strand Train Show: Myrtle Beach, SC


Wilmington Railroad Museum's Modular Wooden Railway

Western Gateway Farmers Market: Penn Valley, CA

Play PDX: Portland, OR


FL!P Children's Museum Popup Event: Oaks Park

Spring Spokane Train Show: Spokane, WA


River City Modelers' Modular Wooden Railway

31st Annual Train Show and Marketplace: Monroe, WA

Franklin County Children's Festival: Farmington, ME


Western Maine Play Museum's Modular Wooden Railway
2022


Neuse River Valley 38th Annual Train Show: Raleigh, NC


Wilmington Railroad Museum's Modular Wooden Railway

EPC Fall Festival: Bothell, WA

National Train Show: St. Louis, MO


Edwardsville Children's Museum's Modular Wooden Railway

NMRAx Clinic: Livestream


April 23rd

Trains!: Covington, WA

Edwardsville Children's Museum: Edwardsville, IL
2021


Wilmington Railroad Museum: Wilmington, NC
2020


The Engine Shed: Reading, UK

29th Annual Train Show and Marketplace: Monroe, WA

MOHAI Maker Day: Seattle, WA
2019


MOHAI Model Train Show: Seattle, WA

Trains! - Kirkland, WA

Truro Fall Train Show: Truro, NS


Western Maine Play Museum's Modular Wooden Railway

Trains! - Quebec City, QC


Western Maine Play Museum's Modular Wooden Railway

North Olympic Peninsula: Port Angeles, WA

Victoria Model Railway Show: Victoria, BC

28th Annual Train Show and Marketplace: Monroe, WA
2018


Vancouver Model Railroad Show: Vancouver, BC

Fall Spokane Train Show: Spokane, WA

Trains!: Anderson Island, WA

Spring Spokane Train Show: Spokane, WA

27th Annual Train Show: Monroe, WA
2017


Trains!, Kirkland: WA

Vancouver Train Expo: Vancouver, BC

Fall Spokane Train Show: Spokane, WA

Victoria Model Railway Show: Victoria, BC

26th UNW Train Show: Monroe, WA
2016


Trains!, Kirkland: WA

Spokane Train Show: Spokane, WA

25th UNW Train Show: Monroe, WA
2015


Training for Christmas: Kirkland, WA

Vancouver Train Expo: Vancouver, BC

Spokane Fall Train Show: Spokane, WA

National Train Show: Portland, OR

Wooden Railway Clinic - Kids Club: Steilacoom, WA

Victoria Model Railway Show: Victoria, BC

Supertrain 2015: Calgary, AB

Woodfest 2015: Sedro-Woolley, WA

4th TNW Freighthouse Square Train Show: Tacoma, WA

Spring Model Train Show: Spokane, WA

24th UNW Train Show: Monroe, WA

Great Train Expo: Portland, OR
2014


41st Annual Model Railroad Show: Seattle, WA

Neighborhood Christmas Party: Seattle, WA

Great Train Expo: Pleasanton, CA

Great Train Expo: Puyallup, WA

Wooden Railway Clinic - Seattle ReCreative: Seattle, WA

Trains 2014: Burnaby, BC

17th Mount Cheam Train Show: Chilliwack, BC

Spring Model Train Show: Spokane, WA

Wooden Railway Clinic - Seattle ReCreative: Seattle, WA

30th Annual Int'l Model Railroad Show: Lynden, WA

Wooden Railway Clinic - Seattle ReCreative: Seattle, WA

Victoria Model Railway Show: Victoria, BC

3rd Seattle Mini Maker Faire - EMP: Seattle, WA

23rd UNW Train Show, Monroe: WA

40th Pacific Science Center Train Show: Seattle, WA


Seattle ReCreative's Modular Wooden Railway
2013


Great Train Expo, Puyallup: WA

16th Mt. Cheam Train Show: Chilliwack, BC

29th Annual Int'l Model Railroad Show: Lynden, WA

75th Snoqualmie Railroad Days: Snoqualmie, WA

Boeing Diversity Council Event: Everett, WA

2nd Seattle Mini Maker Faire: Seattle, WA

22nd UNW Train Show: Monroe, WA

39th Pacific Science Center Train Show: Seattle, WA
2012


21st UNW Train Show: Monroe, WA

38th Pacific Science Center Train Show: Seattle, WA
2011


20th UNW Train Show: Monroe, WA

6th Issaquah Train Show: Issaquah, WA
2010


19th UNW Train Show: Monroe, WA

Club123, Eastside Foursquare: Bothell, WA

Morning Star Preschool: Kenmore, WA
2009


Henry and Philipp test: Kenmore, WA

Module construction begins: Anderson Island, WA
2008


Initial draft of Standard with Dimensions: Kenmore, WA

Development of Standard: Kenmore, WA



Transportation becomes an art - how to fit everything back into the car after the show...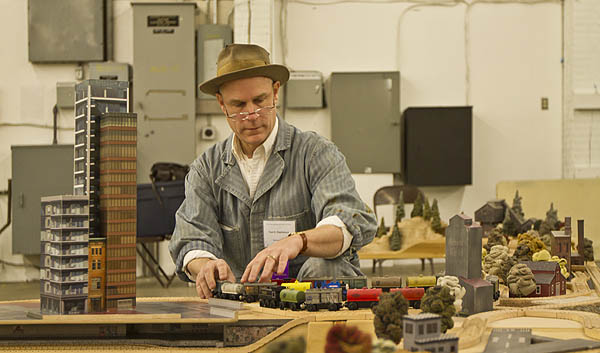 Checking the layout before the show. The uniform is heavily patched and dates back to at least the 1940s. Based on the rust stains, it must have been left on an old wheel in a damp carport in Portland. A uniform is helpful when engaging with children less inclined to follow direction.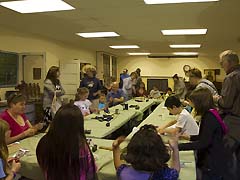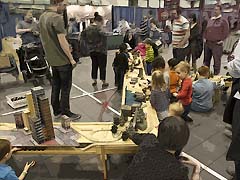 Super Train - Unlike most events, we had to lug the modules in and out of the building, a fair distance from the parking lot.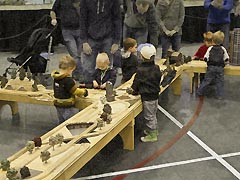 Super Train - Calgary's massive train show, the largest in Canada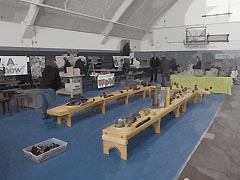 Sedro Woolley - A community event based on arts, crafts and woodworking.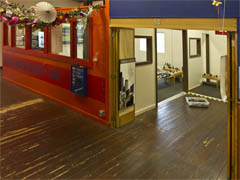 Tacoma - Near downtown and adjacent to the Sounder's Tacoma Dome Station.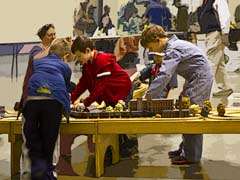 Spokane - Some familiar faces and making new friends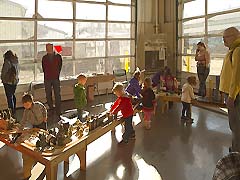 Monroe Train Show - Our sixth year, settling in to a regular space next to the roasted nuts.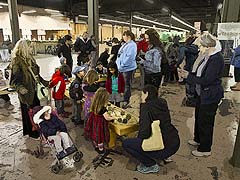 National Train Show - Portland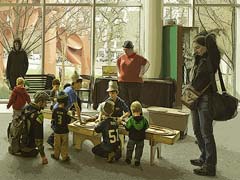 Seattle - Seattle ReCreative shared their new modular wooden railway constructed from century-old Chestnut and reclaimed pine flooring. This railway is now in the Children's play space on 85th and Greenwood.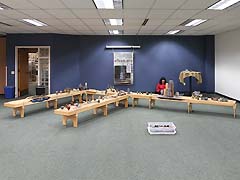 Seattle - University Presbyterian's neighborhood Christmas party.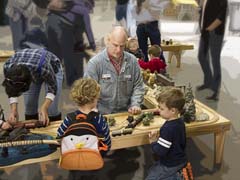 Pleasanton - A long drive south to the Bay Area for a delightful show adjacent to the NMRA table.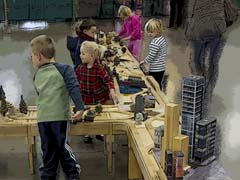 Puyallup - Returning to the Tacoma area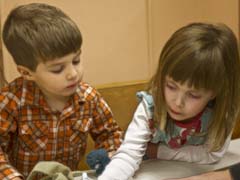 Seattle ReCreative - Children's Train Workshop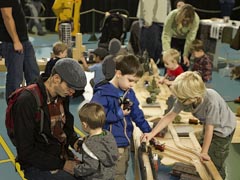 Vancouver - Venturing into the metropolitan center of Canada's Sunshine Coast...and our first setup in a hockey rink.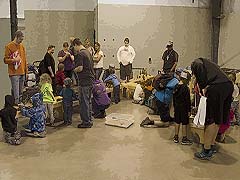 Spokane Train Show - Across the mountains to the other side of our state.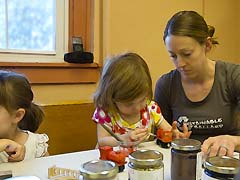 Seattle ReCreative - Children's Train Workshop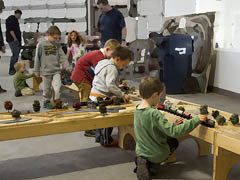 Lynden Train Show - Another show near the Canadian border...and a long way from home.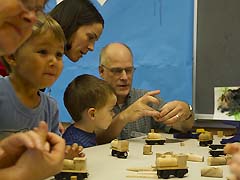 Seattle ReCreative - The first of several workshops where children could construct trains, trees and buildings for their own layout at home.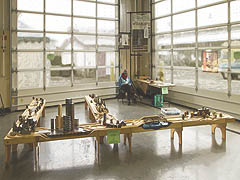 Monroe - Year 5.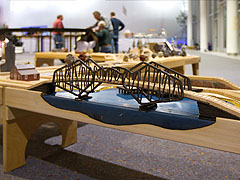 Seattle's Pacific Science Center - Our third and last year in attendance with our tables. The footprint available was diminishing, attendance was dropping...and three days is simply too long for an interactive event overrun by children without sufficent parental engagement.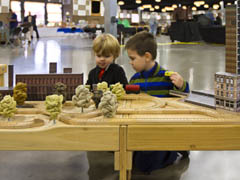 Puyallup - Great Train Expo's annual train show near Tacoma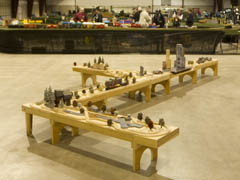 Chilliwack - Our first showing across the border in Canada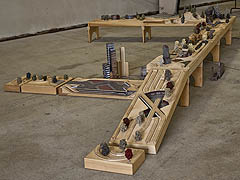 Lynden's Train Show - Our first year there.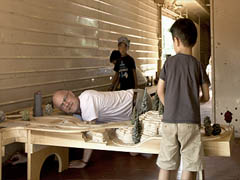 Snoqualmie Railroad Days - Hot, isolated train car...we were doing our best not to lose any kids through the open doorway.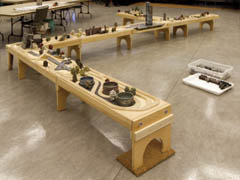 Seattle's Makers Faire - One of the first non-railway venues attended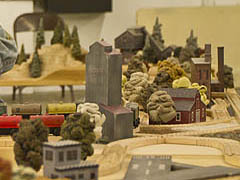 Monroe Train Show - 4th year in attendance - with trees buildings, landscaping and trees fully incorporated into the layout.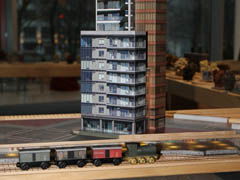 Seattle's Pacific Science Center - Another chaotic three day weekend...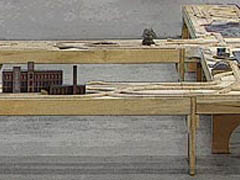 Monroe Train Show - Year 3.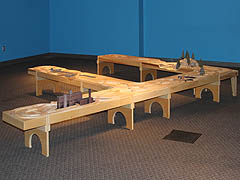 Seattle's Pacific Science Center - A chaotic and uncontrolled environment for a long, long three day weekend event...and the reason that all trees and buildings are firmly secured to the tables.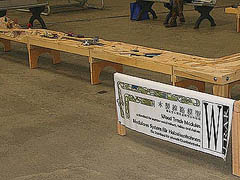 Monroe Train Show - 2nd year in attendance.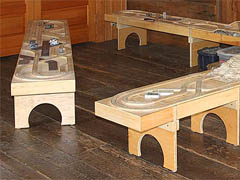 Issaquah Train Show - Set up in the old station, requiring shims to level the layout due to rough and uneven flooring.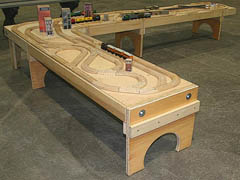 Monroe Train Show - First invitation to a Model Railway Show (2010)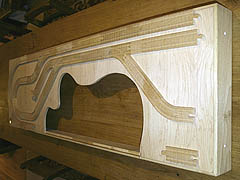 Module construction starts - Bay & Bridge under construction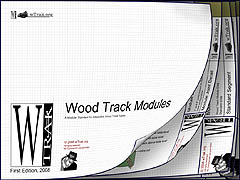 wTrak Modular Standard published as a first edition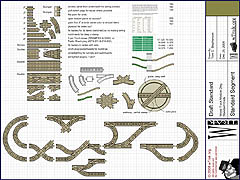 Modules and Track elements created to facilitate layouts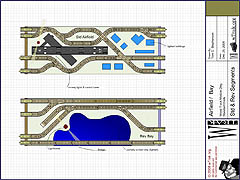 Modular Wooden Railway Standard created using Visio