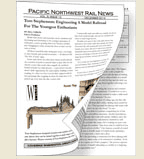 Our family cobbled together large wooden train floor layouts around the house over the years.
We also set up track for neighborhood children who knocked on the door, preschool classes, and a few church and community events. It is such a treat to watch a child's face alight when they see a large train layout that they can actually play with. Model train shows are great, but these running displays are rarely intended for small hands to touch or play with.

A sprawling wooden railway presents significant challenges though. Awkward little feet totter through the layout, trip over track, and frustrate other children. Add to that the strain that develops at critical points as different areas of a large layout are pushed against - popping connectors and breaking track. A large layout takes considerable thought and time to conceive and set up, and at
some point the vacuum cleaner comes out and the layout has to be put away.

Following are ideas that take wooden track to a hobbyist level. Great for kids, this non-scale railway allows limitless creativity in the medium of wood, glue, metal, fabric, textures and paper.
I would even dare to suggest it brings with it charm and a bit of whimsy too...

Our 5th Anniversary Update of the wTrak Modular Railway Standard is available as a pdf for download to read or print, or as a perfect-bound printed color magazine through Blurb.